City Colleges of Chicago 
LaMar Magnus, Personal Fitness Training faculty at Malcolm X College
"To LaMar Magnus, a Personal Fitness Training faculty member at Malcolm X College, our true wealth comes from both mental and physical health. LaMar's well-rounded approach to wellbeing serves as an inspiration to his students and anyone he comes into contact with, allowing his impact to extend far beyond the classroom.
As an example, in fall 2020, LaMar helped City Colleges of Chicago kick off our district-wide Faculty Development Week by leading a session on "Setting Intentions." During a time of great stress in our city, he chose to begin the event with a peaceful mediation, which set a tone for the entire week and was the ideal way to begin an untraditional school year.
In addition, LaMar was also an integral part of the City Colleges and Inner-City Muslim Action Network Weekend Warrior project over the summer, through which he developed a group exercise schedule for the student participants. The schedule he created not only kept the Weekend Warrior students engaged, but it also allowed Malcolm X students in the Personal Fitness Training program to instruct group exercise classes in a real-world setting, helping them gain relevant and transferrable experience.
As mental and physical health have become especially critical over the last year, LaMar has set an incredible example for his students and our system as a whole."
Professor Ivanhoe Tejada, Architecture at Harold Washington College 
"In Summer 2020 Harold Washington College (HW), One of the City Colleges of Chicago launched the Architecture Fellow Program in collaboration with the Chicago Architecture Center (CAC).  This Architecture Fellows program couldn't have been accomplished without the leadership and commitment of Ivanhoe Tejeda, Architecture Faculty at Harold Washington College.  Ivan has taught Architecture at Harold Washington College for 20 years.  He has over 10 years of architecture experience including his own private consulting firm and is the Advisor for the Architecture Club at the college.
Harold Washington and the CAC partnered to create a unique opportunity for high school students to learn about architecture, construction, engineering and design.  Chicago high school students enrolled in the Architecture Fellows program earn college credit, earn a stipend every semester, explore the design fields and work alongside architecture and design professionals. They work on multiple design projects, showcases and public exhibitions, visit places of architectural significance and have an opportunity to complete their fellowship with a paid summer internship at a local architecture or design firm.  Creating these unique student experiences indeed requires knowledge, enthusiasm and commitment and Ivan embodies them all.
Architecture Fellows work on studio and capstone projects, develop a portfolio and experience the effects of urban planning.  The 15 fellows meet on Saturdays during the school year and weekdays throughout the summer.  At the completion of the 20-credit hour 6 course sequence, students will earn a BC in Architecture.  At every step, Ivan was instrumental in planning, executing and teaching the courses and content.  Ivan meets weekly with the CAC to co-plan, co-teach and ensure they are creating an engaging, impactful and relevant content for the students.  As we highlight Professor Ivan Tejeda in this CTE Spotlight, we are proud that he is part of our Harold Washington Community and look forward to his continued commitment to our students."
College of Lake County
Octavio Cavazos, Department Chair for Automotive Collision Repair
College of Lake County would like to recognize Octavio Cavazos who is the department chair for Automotive Collision Repair. Octavio has been a full time teaching faculty member and department chair for over 15 years. He was instrumental in leading the program to expand from its humble beginnings in a shared lab that was originally housed at the Lake County High School Technology Campus, to now include an over 13,000 square-foot state of the art building on the college's Grayslake Campus. (See picture)
Octavio has been involved in many initiatives that help support the college's mission of access, student success, and equity. He recognizes the importance in partnering with people and/or organizations to ensure all students have an opportunity to thrive. Octavio has collaborated with the Adult Education Department to create automotive collision transition classes to help English as a Second Language students to continue to obtain a short-term certificate. At the end of their academic journey, their valuable credential leads them to gainful employment in the automotive collision industry.  Likewise, a couple years ago, the State of Illinois awarded the college a grant to help African American students with obtaining credentials in high demand areas that lead to gainful employment. Octavio was a major partner in the Workforce Equity Initiative grant that now is in its second year due to its great success.
Lastly, Octavio spearheaded the college's inaugural Collision Career Apprentice Pilot Program (CCAPP). The CCAPP program is a unique opportunity for college's collision repair program as it provides resources to three main stakeholders: the college, area employers, and the students. Octavio was approached a year ago to partner with CCAPP and Ranken College to have this apprenticeship program in Illinois. "The Collision Repair industry has a huge need for more trained Collision Repair Technicians, this hands-on career provides family sustaining wages here in Lake County," said Octavio Cavazos.  The college is supported by receiving the latest industry training, collision repair equipment, and other resources to ensure all collision repair students receive NATEF and I-CAR certificates (collision repair industry recognized credentials). (See picture)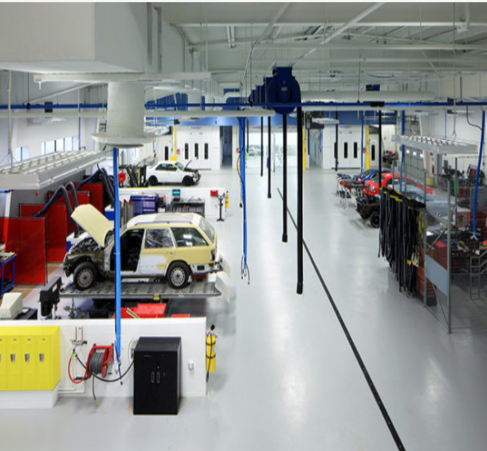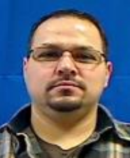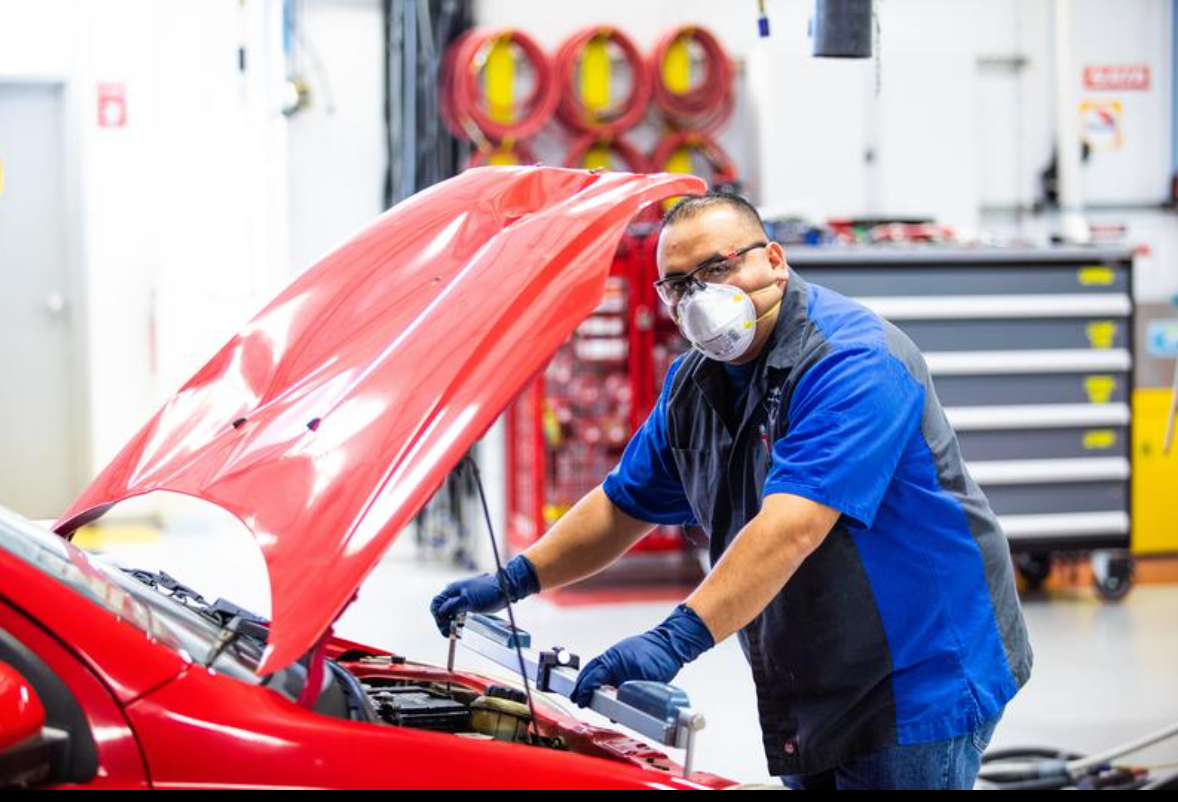 Heartland Community College
Linda Lambert
"Linda Lambert is the Associate Director of the Business Technology Learning Center at Heartland Community College. The Business Technology Learning Center (BTLC) houses 16 open entry/open exit courses in the Business Technology program; the format of these courses allows students to complete them at their own pace but with added support from facilitators in the BTLC. In addition to managing the BTLC, Linda maintains and develops the curriculum, teaches a few courses, and supervises the incredible part-time faculty who teach and facilitate in the BTLC. Because of her leadership, many of the courses have embedded certifications so students can earn Microsoft credentials as they are completing the program – and the students have been very successful, largely due to Linda's vision and direction. She celebrates and recognizes each student who passes their certification exam!
Linda was instrumental in starting Heartland's Phi Beta Lambda chapter in 2014 and serves as one of the chapter's advisors. She is also on the National Awards Program Committee for FBLA-PBL. Her constant encouragement of Business Technology students to become involved in PBL has led Heartland Community College to win state and national awards throughout the years. Supervising internships, leading the advisory committee, and mentoring the faculty are just a few more of the amazing things Linda does to ensure students in the Business Technology program are well prepared to enter the workforce. Linda has been teaching at Heartland Community College for more than 20 years."
Kankakee Community College 
Professor John Bordeau, Computer Graphic Technologies 
"Professor Bordeau has been influential in the growth of KCC's Innovation Lab, which while utilized with his computer design programming has also grown into a space with over ten 3D printers, laser engravers, plotters and advanced printers. Professor Bordeau's long held desire to create an Innovation Space that is highlighted within the Technology area at KCC is under planning phases to hold a very prominent location and view ability. One of the major extra's that Professor Bordeau brings are his YouTube videos that have served a worldwide audience with nearly a million views in total, for students learning more about AutoCAD and other design software."
Professor Mark Stevenson, Welding Technology
"Professor Stevenson has been responsible for growing and sustaining a sought after Welding program for area business and employers. His ability to envision the Manufacturing and Industrial Training Center, MITC, as the home for Welding, Machine Tool, Fabrication and Millwright programming. As a local business owner within the same arena Professor Stevenson has firsthand knowledge of the needs and hurdles that local manufacturers face. It is widely known that walking through any local manufacturing plant with Mark, you will hear his name shouted by employees as they see him walking through the plants. His support of continuing education opportunities is also sought and looked forward to."
Professor Charlie Cooke, Heating and Air Conditioning
"Professor Cooke continues to expand the HVAC curriculum, most recently moving his entire lab space to the Manufacturing and Industrial Training Center. This expansive shift to a new space, and ability to customize based on his long standing experience as instructor and at the same time a technician for an HVAC contractor over the summer months. Given this insight to on-the-job understanding and able to apply this knowledge into first rate classroom delivery of the on-the-job elements for students."
Katelynn Ohrt, Agri-Hort Technologies
"Katelynn remains a strong contributor to the KCC District 520 agriculture and horticulture culture through her delivery of a wide array of Agri-Hort courses, her support of FFA and 4-H programs and clubs in the area, her continued focus on agriculture growing technologies aa well as maintenance of greenhouse, aquaculture and hydroponics lab spaces. Stepping into the virtual delivery of course content through Facebook Live, Youtube and Instagram, she has become a sought after leader in the community for course expansion. A little known fact of Katelynn's value and support of KCC is her leadership of Perkins Grants at KCC. Katelynn has grown a team approach into a valued and sought after partnership at KCC and with local leaders."
Kaskaskia College 
Assistant Professor Lyle Gross, Industrial Technology
"Kaskaskia College Assistant Professor of Industrial Technology, Lyle Gross, keeps his programs at the forefront of workforce needs. He has formed relationships with business and industry partners that provide information on training needed for current and emerging technology.
Currently, there are programs in Industrial Automation, Industrial Electricity, Industrial Management, and Industrial Technology. Gross is always one step ahead when it comes to his programs. With receiving the Title III grant, he is working to provide future online and hybrid learning opportunities and is creating an Industrial Automation certificate.
Gross recently facilitated improvements to his lab to provide a better training environment for his students. He is also working on apprenticeship opportunities with regional employers. Gross works tirelessly to ensure every potential student has an opportunity to earn a credential from Kaskaskia College."
Associate Professor Angenien Huffstutler, Computer Information Technology
"Kaskaskia College Associate Professor of Computer Information Technology, Angenien Huffstutler, isn't just focused on student learning and training; she's also committed to providing an environment where they can showcase those skill sets.  Over the years, Huffstutler's students have engaged in various class and team-building exercises, such as installing fiber optic systems at local grade schools and county office buildings.
When Kaskaskia College went remote last spring due to the COVID pandemic, Huffstutler's students didn't miss a beat. She successfully set up a fully functional server and workstations virtually, allowing students to complete lab assignments and group projects.  The entire process provided students with a more real-world setting to complete their work, whether they were engaged in more CISCO hardware projects or her popular cyber-defense program.
Huffstutler is a long-time supporter of the SkillsUSA competition for both high school and college students.  For several years she has served as the chair of the Skills Technical Computer Applications (TCA) Committee and the TCA chair for state competitions.  For 2021 Huffstutler developed the Skills competition challenges students will face in this category for Illinois and all 50 states!   "I am truly grateful to play an active role in support of this amazing organization that helps pave the pathways for our students' future," said Huffstutler.  "It has been my humble honor to play a small role to support the leaders of tomorrow."  Kaskaskia College is genuinely grateful to have a dedicated instructor like Angenien Huffstutler."
Assistant Professor Cory Wellen, Welding
"Kaskaskia College Assistant Professor of Welding, Cory Wellen's goal as an instructor is very simple to train welders that he would like to hire.  With more than 15 years' experience in the field before coming to KC, Wellen knows what companies look for and passes that knowledge on to the next generation of welders.  Wellen teaches Gas Metal-Arc Welding (GMAW), Gas Tungsten-Arc Welding (GTAW), and Shielded Metal-Arc Welding (SMAW), as well as blueprint reading and welding inspection.
Wellen is extending that training beyond the college by working with several high schools in KC's district to develop their welding trades programs.  Each year Wellen hosts a high school welding competition that provides students with the opportunity to showcase their skills and introduce them to different welding processes.  In 2020 Wellen helped Central Community High School in Breese develop their welding program, providing advice in designing and implementing the program.  Wellen also led the way in having KC donate two MIG welders and two stick welders to Central to get the program off to a great start.
"Students at Central High School will now have the ability to learn welding skills and take welding tests that can earn them a welding certification," said Steven Ellis, industrial arts and drafting teacher at CHS. "The goal at CHS is for 100% of our students to be college or career ready at the end of their senior year. With KC's efforts, we can offer a welding program to accomplish that goal."
"Welding is a gratifying field that has several good-paying jobs," said Wellen. "Giving back to schools like CHS is important to introduce students to different occupations and continue relationships that boost local industry." It's this commitment to training that makes Cory Wellen stand out as an outstanding educator."
Kishwaukee College
Christy Sharp, Culinary Instructor
"Christy Sharp is an outstanding culinary instructor. This year, she created two new courses and revised several culinary courses for the program while moving her face-to-face classes to an online platform. She made several teaching videos for her students during the pandemic. She ran the Hospitality Advisory Committee and made a special video for the committee explaining how the program was dealing with the pandemic.
Christy also teaches for KEC's culinary program and was the person who helped create the Dual Credit Culinary program between KEC and Kishwaukee College. This year, she is mentoring the Whiteside Area Vocational Center culinary instructors, who now have Dual Credit with Kishwaukee College. When she is not teaching, she works with numerous Chefs to help keep their restaurants operating during the shutdown. "
Lewis & Clark Community College
Professor Meghan Becraft, Dental Hygiene
 "Lewis & Clark Community College would like to recognize Meghan Becraft, along with all the Dental Hygiene Clinic faculty members and staff.  They were able to reopen the college's dental clinic during a COVID 19 pandemic and keep everyone safe.  Meghan's leadership during this time was critical.  She, along with her fellow Dental Hygiene faculty members, determined the level of personal protective equipment (PPE) needed and the processes that need to be put in place to keep every student, patient, faculty and staff member safe.  This was a tremendous undertaking.  Once the PPE was determined, finding it was the next obstacle.  Meghan spent endless hours sourcing PPE and additional equipment to be certain the clinic was ready. Meghan Becraft truly went above and beyond during this COVID 19 pandemic!"
Moraine Valley Community College-  Virtual Victories, CTE classes offer advice for teaching hybrid courses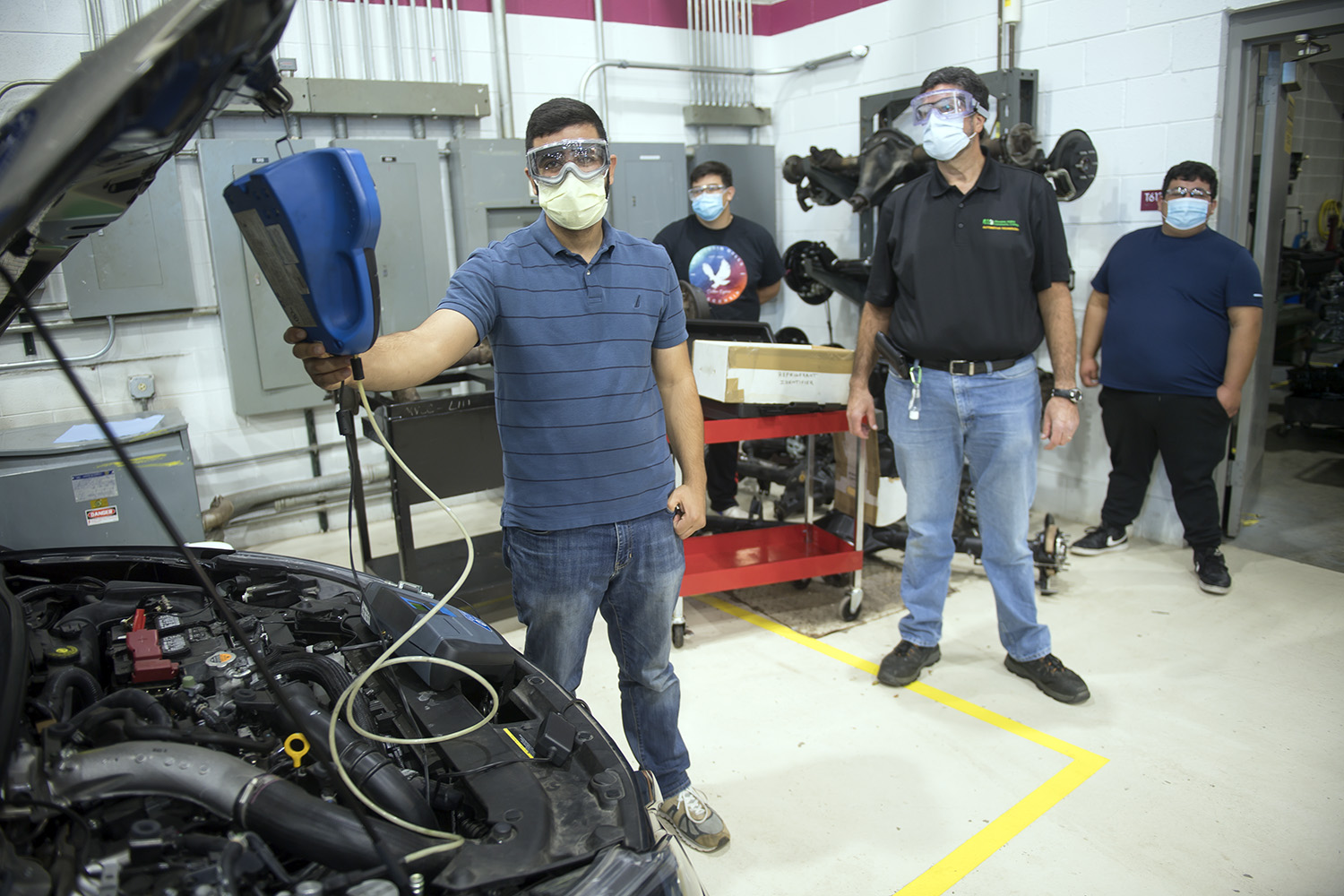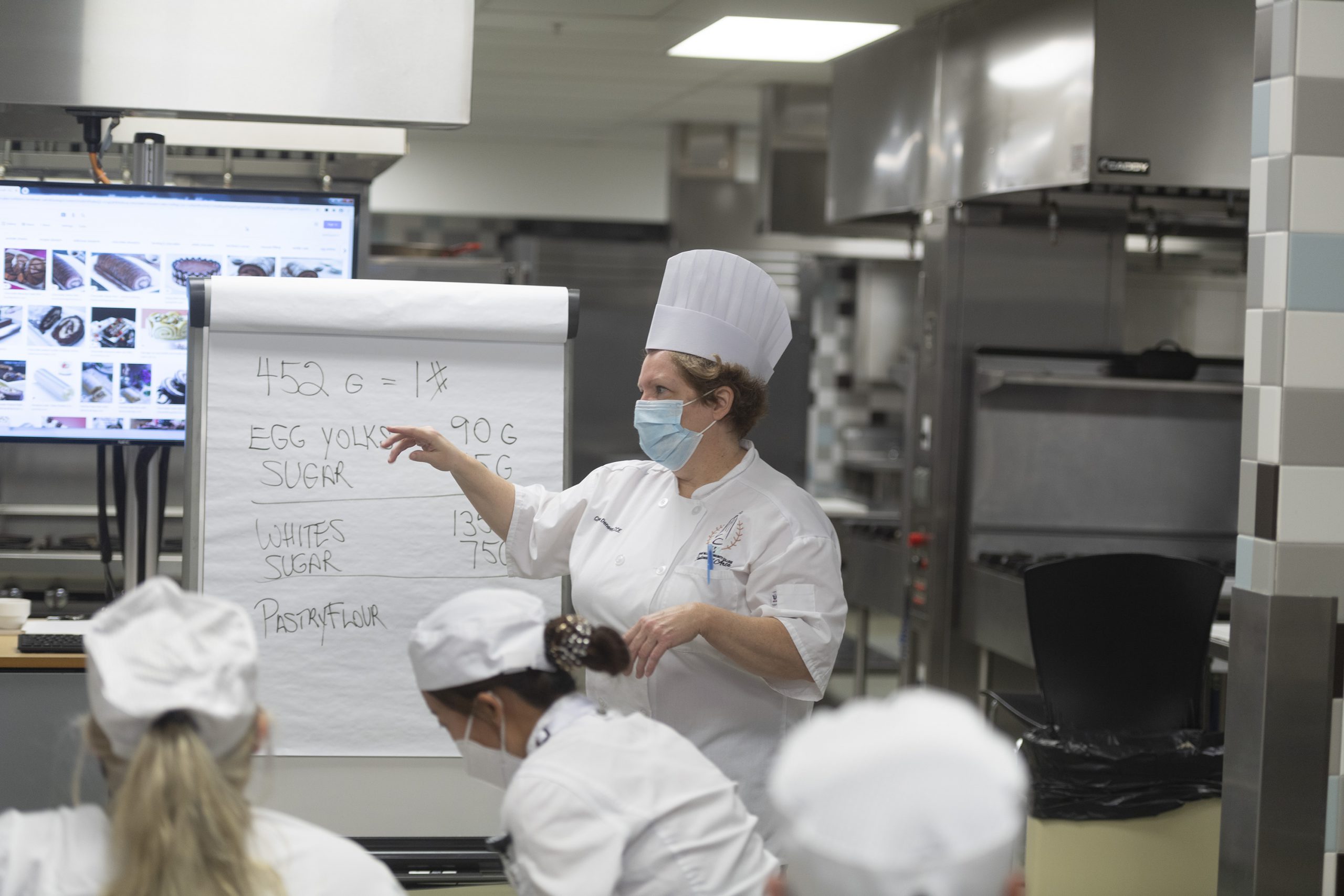 Associate Professor Bob Faoro, Automotive Technology
Ira Siegel, Program Coordinator and Professor of Automotive Technology
Associate Professor Lampros Tzimas, Culinary Arts and Hospitality Management 
"Making the transition from learning full time in labs and classrooms to splitting that time virtually has required more planning by faculty than usual. The hands-on component required in career and technical education classes has necessitated additional considerations during the COVID-19 pandemic — and they've been successful.
Automotive technology classes typically involve in-person instruction with two hours of lecture and four hours of lab work one day per week. Lectures and homework were put online, and students only came to campus, in smaller numbers, to complete lab assignments.
"That meant preparation for labs had to be handled online. In my case, students had to do the assigned online work before being eligible to attend labs. Most did the work on time," said Bob Faoro, associate professor of automotive technology. "I changed the structure of my class so that the online portion was one week ahead of the lab. I did very little with Zoom or Webex and used Panopto instead."
To work online, instructors in automotive technology researched and reviewed three online sources and chose Cengage MindTap (a cloud-based learning solution) for its ability to offer online instruction, access to online textbooks and service information, and other helpful features. Plus, it merged well with Canvas, explained Ira Siegel, program coordinator and professor of automotive technology.
Siegel added, "There is a lot of work upfront getting ready for your hybrid course, but the more work you put in will likely provide a better experience for you and your students. Don't be afraid to ask the CTL and your colleagues for help."
Faoro also offers advice for any instructors moving to a hybrid format of teaching. "Get organized! Increase communication with your students. Don't assume they are going to be on top of everything. Plan for things to go sideways at all times. It won't be as smooth running as you think," he said.
Like automotive technology, culinary arts reduced class sizes, which also meant only one class could work in the kitchen at a time. Instructors used more videos, PowerPoints and online resources to help engage students in learning material. They still had labs in the kitchen, but they became more of a one-on-one interaction with the chef instructor, said Lampros Tzimas, associate professor of culinary arts and hospitality management. He added that about 60% of course time was completed in the campus kitchen.
Tzimas advises instructors to remember that online learning can be a challenge for students who expect to absorb everything in class. "They have to adjust to much of the learning being self-monitored. The instructor also has to create more engaging lessons and provide more resources for the students to have and engage with online," he explained. "This is double the work for instructors because you have to do a lot of front loading of information so students comprehend and are prepared for the days they are physically in the classroom and that they know what is expected in the performance aspect.""
Prairie State College 
Professor Gail Szewczyk, Coordinator of Dental Hygiene
"Professor Gail Szewczyk is our Coordinator of Dental Hygiene.  She truly goes above and beyond in her work at Prairie State College.  She has worked tirelessly to advocate for opening our dental clinic safely so students and the community could access the services they need.  She also coordinates our community dental program and has worked with students to develop innovative ways to meet the needs of the community with virtual programs and events.  She has also been a part of the team working to plan our dental clinic renovation.  In addition, she takes the time to personally tutor struggling students even when the college is on break, to make sure they can pass their licensing exams.  She is an amazing advocate for our students and the program. "
Spoon River College 
Joe Clemens, Instructor of Diesel and Power Systems Technology
"Joe Clemens has been a full-time instructor in the Diesel and Power Systems Technology program at Spoon River College since fall 2008.  This however, was not Joe's first relationship with SRC.  Joe came to the college following high school and enrolled in the very same Diesel and Power Systems Technology program that he now teaches in.  Joe's path led him in two directions.  He went on to obtain a Bachelor's degree while continuing to work for the dealership at which he had done his internship during the work –based learning component of the diesel program at SRC.  After approximately nine years working as a technician, he was contacted by a retiring faculty member and encouraged to apply to be an instructor.  Joe was hired for the position and has been instructing future technicians ever since.
Work based learning is very important to the discipline of Diesel and Power Systems Technology.  Students have to grasp and understand the theories and principles taught.  This doesn't really happen until the student is faced with a problem or situation in a lab or on the job training.  One of the classes that Joe teaches is Tractor Overhaul.  This class will simulate, as much as possible, actual work conditions that a service technician would likely encounter on a daily basis in a dealership.  Joe has always done an excellent job of communicating with his students as well as keeping them engaged.  Joe is known for stopping a lecture and taking his class to the shop floor to show them something because he knows when they see it and put their hands on it, they will have a better understanding of what he was discussing.
Joe knows the importance of keeping up on emerging technology.  Joe said, "The days of getting out your hand tools first to work on a machine are declining and your new tool of choice is your laptop to find your problem".   The skill trade of being a technician is never going away.  Machines are always going to be around and someone is always going to be needed to keep them going. "
Melissa Miller, Allied Health Program Coordinator 
"Melissa Miller became the Allied Health Program Coordinator at Spoon River College in 2017.  In addition to that role, she has been an adjunct instructor in the program since 2016.  Melissa graduated from Spoon River College in 1994 and has worked in the medical field since then.  Melissa's experience in the field has been instrumental in the work she does at Spoon River College.  Melissa realizes the importance of keeping her programs updated and relevant in order to keep her students engaged.  She recognizes the importance of lecturing as well as involving students in hands on labs and critical thinking exercises.
According to Melissa, "Work based learning is important because a textbook and a classroom are limited spaces and can only teach you so much." Melissa knows that work based learning allows students to apply their knowledge, increase their self-confidence, and expand their comfort zones.  Melissa finds satisfaction in her students having moments in their internships when everything they have learned starts to click.
Melissa knows the importance of outreach in the community college world.  She has been involved in several community projects to promote wellness and career planning.  She is a founding director of "Girls Unplugged"  This is a program that reaches out to middle school age girls in order to introduce them to Stem careers and build leadership and confidence in them.  Melissa has also developed a Career and Tech Student Organization, "HEAL" for students at Spoon River College. HEAL (Healthcare Enthusiasts And Leaders) Student Association is designed to create a network among students and local healthcare professionals. The goal of HEAL is to help prepare, support and motivate students to continue to pursue further opportunities and further education towards their careers in the healthcare field.  Melissa says, "Healthcare professionals now more than ever, must be versatile and resilient, and they must possess outstanding soft skills.  We must be cross-trained and be able to multi-task at all times." Melissa works continually to ensure that the healthcare career programs at Spoon River College are tailored to our local facilities and our rural communities and the types of jobs that are available locally for our students. "