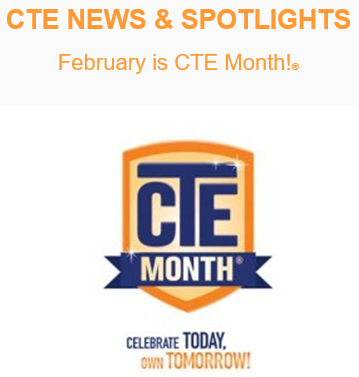 CTE Month is a great time to recognize and celebrate CTE achievements and accomplishments nationwide. The Association for Career and Technical Education (ACTE), in collaboration with other organizations, has coined this year's CTE Month theme as "Celebrate Today, Own Tomorrow!". The Illinois Community College Board (ICCB) will be raising awareness of the role that CTE plays here in Illinois. This year, we will be sharing weekly features highlighting local best practices and events, professional development opportunities, and other resources. These weekly features will center around the following themes:
Engagement and Advocacy – It is important to engage and recognize staff, community members and organizations, and businesses for their exemplary work in progressing career and technical education (CTE) at your institution. Colleges should also communicate with policymakers to advocate for the continued breadth and expansion of CTE and encourage community members to do the same.
Partnerships for Student Success – Fostering partnerships is vital for the growth and success of CTE programs. Strong partnerships can lead to robust business engagement, successful student transitions, and improved student achievement.
Work-Based Learning: A Hands-On Approach – Work-based learning is an essential component of CTE programs. It gives students the opportunity to see how classroom instruction connects to the world of work and future career opportunities. Work-based learning opportunities include project-based experiential learning, internships, clinical experiences, and apprenticeships, all of which are being expanded across the state.
Local Innovation, Global Impact – Local CTE programs often employ innovative practices to meet ever-changing workforce needs in high-growth and emerging industries. To ensure that students acquire the skills and knowledge they need to meet challenging academic and technical standards, programs integrate and contextualize instruction as well as offer access to state-of-the-art technology and equipment.
————————————————————————————————————————————————————————————————————————————————————————————
Week 1: Engagement and Advocacy
Week 2: Partnering for Student Success
Week 3: Work-Based Learning: Taking a Hands-On Approach