Illinois Community College Board (ICCB)
Adult Education & Literacy Statewide Outreach Project
The ICCB is leading a statewide campaign and capacity building initiative to support adult programs, community colleges, school districts and community organizations with student recruitment. A collaborative  effort between Full Capacity Marketing and the Adult Learning Resource Center, the initiative includes a highly strategic digital campaign to raise awareness about the value of adult education coupled with communication tools and assets to support enrollment efforts at the local level. Additional program support will be provided by SIPDC and ICSPS.
In addition to the statewide campaign, the outreach project has several other components to support Adult Education & Literacy programs in Illinois, including:
Online professional development sessions to help build capacity and sustainability and to support programs in adopting the campaign successfully.
Technical assistance to programs with low enrollments.
Research and recommendations for strengthening referral processes from WIOA partners and K-12 school districts.
Want updates delivered to your inbox? Sign up for the PDN Pulse!
---
Project Updates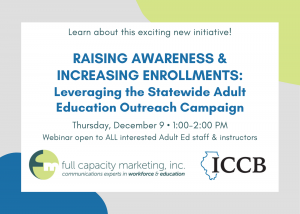 November 12, 2021–See what adult educators are saying! Progress continues on the statewide Adult Education outreach initiative. Click to read about what's happening and register for our first webinar.


November 4, 2021—Registration is open for the first Outreach PD webinar, "Raising Awareness & Increasing Enrollments: Leveraging the Statewide Adult Education Outreach Campaign." Registration is open to ALL staff and instructors employed by ICCB-funded adult education programs. Register here!

October 28, 2021—The pandemic has created a unique set of challenges for adult education providers across the state in recruiting adult learners. What's one solution to low enrollments? Read the latest about the Statewide Outreach Campaign…
---
Project Plan
Click each heading to see more details.